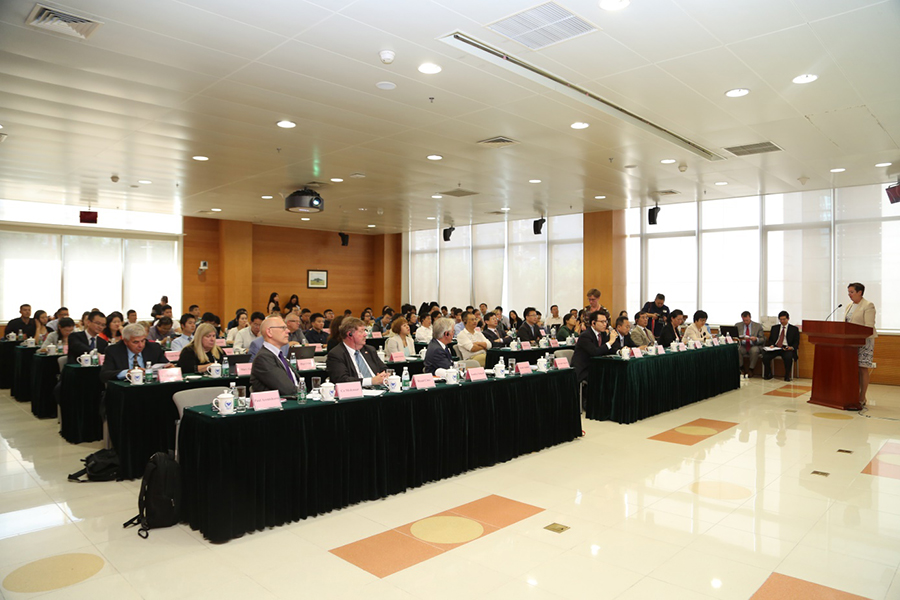 Approved by the Ministry of Environmental Protection (MEP), Foreign Economic Cooperation Office (FECO) held in Beijing the Sino-Dutch International Seminar on Soil Pollution Prevention and Control on September 27, 2016. Zhao Yingmin, Vice Minister of MEP, attended and addressed the seminar.
China recently made a series of key decision-making deployment and top-down design for eco-civilization construction, and has put forward the new concepts of innovative, green, coordinated, open and shared development, noted Zhao Yingmin. New development has been made on the work of soil pollution prevention and control. China enacted and enforced the Action Plan for the Prevention and Control of Soil Pollution, conducted a survey of soil pollution status as well as the preparation of law for soil pollution prevention and control, perfected the standards of soil environment protection, carried out management and remediation for contaminated soil, with active exploration and beneficial practices being implemented for soil environment protection.
The next five years will see intensified efforts on soil environment protection by implementing the Action Plan, emphasized Zhao Yingmin. With these efforts, which will be aimed at consolidating "two bases", highlighting "two focuses", boosting "three tasks", and strengthening "three guarantees", China will basically build a system of soil pollution prevention and control, initially control the deteriorating soil pollution, keep the overall soil environment quality stable, make soil environment safety of arable land and construction land guaranteed, and keep soil environment risks under basic control.
China and the Netherlands have kept a long-term friendly cooperation relationship in environmental protection, conducted in-depth and pragmatic cooperation in terms of personnel training, research of standard preparation methods, technical handbook translation, demonstration of contaminated site management and remediation, all of which have provided numerous concept and policy supports for the work of environmental protection in China, noted Zhao Yingmin.
Prior to the meeting, Zhao Yingmin met with Lidewijde Ongering, Secretary General of Dutch Ministry of Infrastructure and the Environment. Both sides exchanged views about the common concerns such as cooperation in environmental protection.
Since the signing of the MoU of environmental cooperation in 2008, China and the Netherlands have launched cooperation of many fields including soil pollution prevention and control, with initial outcome being gained, said Zhao Yingmin. The Netherlands gave great supports to the work of China Council for International Cooperation on Environment and Development, as one of the key partners of the latter. Zhao expressed the exception that both sides to deepen cooperation based on previous achievements.
The Netherlands has rich experience in soil pollution management and is happy to conduct pragmatic environmental cooperation with China, in an effort to drive the sustainable development of both countries, said Lidewijde Ongering.
Participants of the meeting included international experts from Dutch Ministry of Infrastructure and Environment, USA and Canada, relevant officials of the NPC Environmental and Resources Committee, relevant leaders and staff of MEP departments of soil environment management, international cooperation, policies, laws and regulations, science, technology and standards, and more than 70 representatives of local environmental protection bureaus and research organizations. The meeting was chaired by Qiu Qiwen, Deputy Director General of the Department of Soil Environment Management, MEP.
Zhao Yingmin visited the Environment Conventions Building after the meeting and inspected FECO departments like environmental agreement implementation. Vice Minister Zhao's visit was accompanied by Li Haisheng, Director General of MEP Department of International Cooperation, Xu Bijiu, Deputy Director General of MEP General Office, Cheng Chunming, Director General of MEP Information Center, Zhao Weijun and FECO officials including Director General Chen Liang, Secretary of the Party Committee, Deputy Director Generals Yu Lifeng, Fang Li and Xiao Xuezhi, and Deputy Secretary of the Party Committee Shi Xiaojuan.