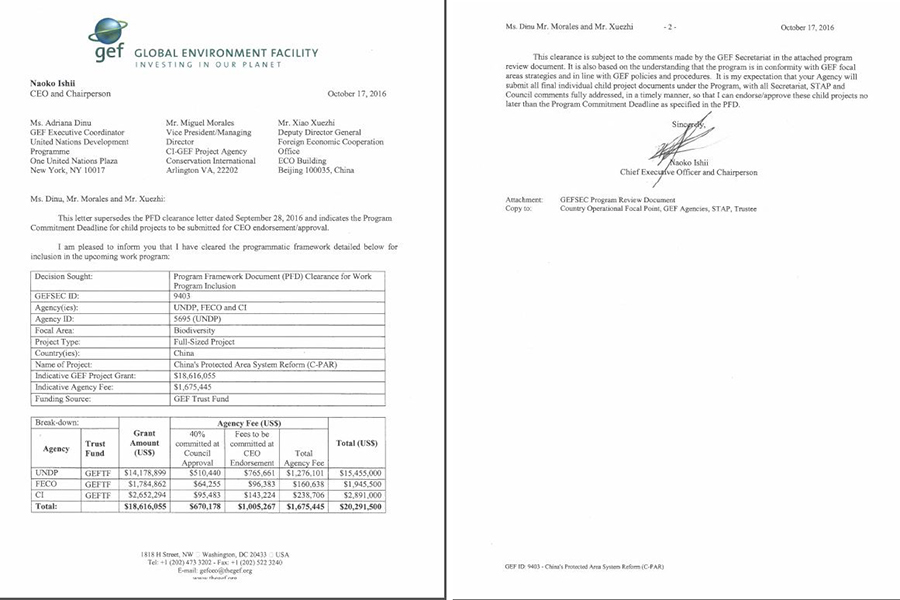 The first project applied by Foreign Economic Cooperation Office (FECO) of Environmental Protection Ministry as the Project Agency of Global Environment Facility (GEF) was approved in the 51st meeting of the GEF Council on October 25, 2016. The Project "Building Sustainability into PA Reforms to Conserve Globally Significant Biodiversity in China" (the Project) was jointly developed by FECO and China Research Academy of Environmental Sciences with the total budget of 14 million USD, including 2 million USD GEF grant (including agency fees) and 12 million USD co-financing. The project period is 5 years.
The Project is one of the child projects of the Programme "China's Protected Area System Reform (C-PAR)" approved in this GEF Council Meeting. The Project objective is to improve sustainability of the national protected area (PA) system through increasing PA management effectiveness and mainstreaming PA valuation results into conservation of globally significant biodiversity in China.
FECO has been working closely with domestic agencies to develop and apply for GEF funds since it was accredited as a GEF Project Agency last year. The approval of the Project marked a milestone in FECO's business of GEF projects implementation.
FECO's Deputy Director General Xiao Xuezhi attended the GEF Council Meeting, accompanied by staff from GEF Project Implementation Office and China GEF Office.