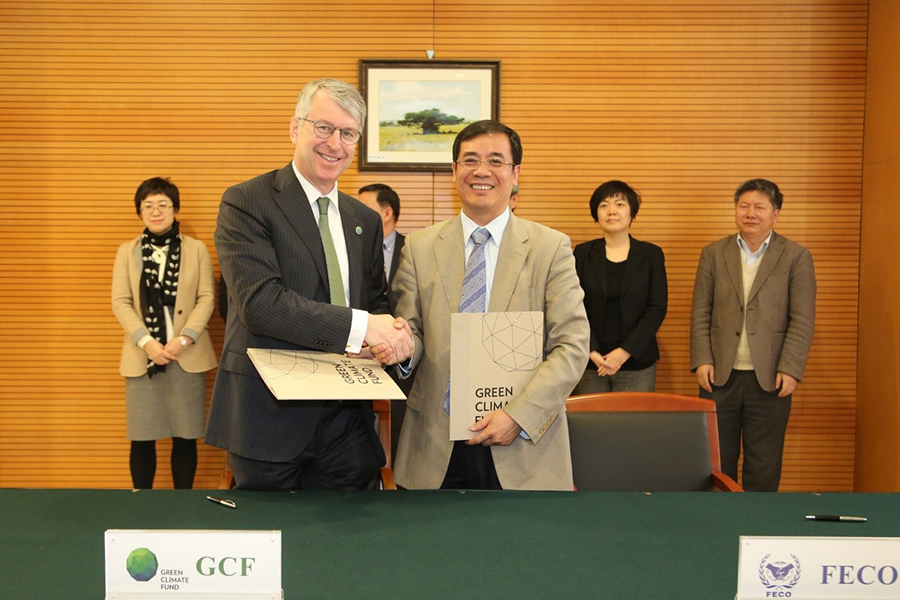 On March 15, 2017, FECO signed the Accreditation Master Agreement (AMA) with the Green Climate Fund (GCF), becoming one of the 48 GCF Accredited Entities (AEs) globally and the first one in China. It is another milestone for FECO's business of project implementation since FECO was accredited the GEF implementing agency in 2015.
Addressing the meeting, Mr. Chen Liang, Director General of FECO, said that FECO will further cooperate with relevant international and domestic agencies to develop GCF projects, and push forward carbon emission control and low carbon development in key areas to make greater contributions to promoting ecological civilization and improving environmental quality.
GCF General Counsel Rutger de Witt Wijnen said in his speech that signing the agreement is the last formal step of the accreditation process, and it is also the beginning of a fruitful cooperation between FECO and the GCF.
Mr. Rutger de Witt Wijnen signed the AMA with Mr. Chen Liang. Mr. Zou Shoumin, Director General of the Department of Science, Technology and Standards of Ministry of Environmental Protection, Mr. Guo Jing, Director General of the Department of International Cooperation of Ministry of Environmental Protection, Mr. Ma Aimin, Deputy Director General of National Center for Climate Change Strategy and International Cooperation, Ms. Ding Ding, Director from Department of Climate Change, National Development and Reform Commission, Mr. Guo Wensong, Director from Department of International Economic and Financial Cooperation, Ministry of Finance and Ms. Zhou Xiaofang, Director from Bureau for Policy & Programme Support of UNDP witnessed the signing of the agreement. Deputy Director General, Mr. Xiao Xuezhi presided over the ceremony. Deputy Directors General, Ms. Fang Li and Ms. Zhai Guiying attended the ceremony.
Becoming a GCF accredited entity is an important step for FECO to broaden its business and to move towards the stage of international cooperation on climate change.