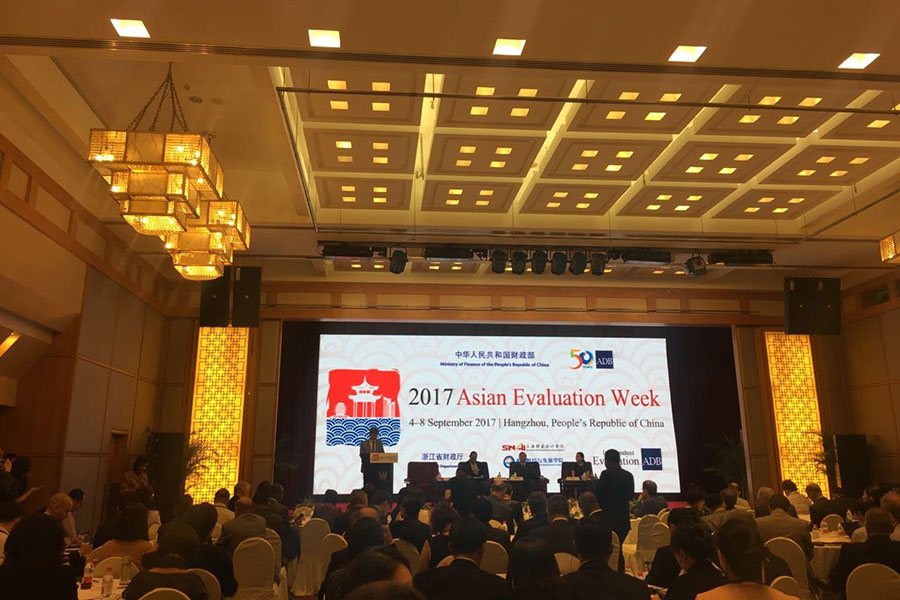 From September 4th to 8th 2017, Asian Evaluation Week 2017 (AEW 2017), hosted by the Ministry of Finance and the Asian Development Bank was successfully held in Hangzhou. With the theme of "Evaluation for Policymaking", AEW 2017 aimed at discussing the positive impacts of evaluation on policy making and implementation process. Team from Department of Evaluation and International Consultancy of Foreign Economic Cooperation Office (FECO) participated in this event and hosted a seminar of "Performance and risk evaluation as a tool to improve PRC's environmental protection". It comprehensively presented the achievements and experiences of FECO in the performance evaluation and environmental risk assessment area, and was highly praised by both sponsors and participants from home and abroad.
In 2010, on the basis of its long-term international cooperation project management experiences, FECO has successfully started its business area of evaluation services and has eventually carried out the performance evaluation on international grant projects with amount of nearly half a billion USD. Since 2012, selected as the budget performance management technical support organization by the Ministry of Environmental Protection, FECO has successively conducted departmental budget project performance evaluation and overall department performance evaluation with a total amount of 1.2 billion RMB, as well as built a comprehensive technical system of performance evaluation. Meanwhile, responding to "Belt and Road" initiative, FECO has accomplished a series work of environmental risk assessment for enterprises' outbound investment projects, accumulated abundant experience of environmental risk assessment, and further enriched its method and techniques of evaluation.
With overall 28 thematic seminars, AEW 2017 attracted more than 200 evaluation experts from 30 multilateral development organizations, 25 countries and related academic institutions. Participants from FECO gave a keynote speech on "performance and risk assessment tools of improving environmental protection", shared experiences and case studies on environmental performance evaluation of governmental budget projects and international grants projects, as well as environmental risk evaluation on enterprises' outbound investment, which was well reputed and raised the public awareness of FECO in the evaluation area.